David Berkowitz Chicago is an all-rounded naïve artist. Acknowledged as one of the most prominent naïve artists in the US, he is representative of the new wave of artists that paints in naïve style.
Starting from 1971, David Berkowitz Chicago has exhibited his naïve artworks over 300 times in some of the most prestigious galleries in the world.
David Berkowitz Chicago Biography
Berkowitz was born in Chicago in 1943. After finishing elementary school in Aurora, he enrolled at the School of the Art Institute of Chicago (SAIC), whereas a young painter held his first solo exhibition.
His first signs of affiliation with art became evident from an early age when he started painting. Unfortunately, stopped while in high school. Berkowitz realized his passion for painting in 1969, after suffering a serious spine injury during a football match. He began creating his first artworks, while tied in bed in the Chicago hospital. Upon realizing that painting was his true passion Berkowitz decided to dedicate himself completely to art.
Berkowitz's Artwork
In 1970, David Berkowitz Chicago became a member of the artists' group, called "Village".
The talented painter immediately stood out from other painters of "Village", because of his peculiar style. Berkowitz's naive art style is easily recognizable. Characterized by elements of water, pumpkin, as a symbol of wealth (when the pumpkin is big and the corn is big), farm, granary, and bareback horses.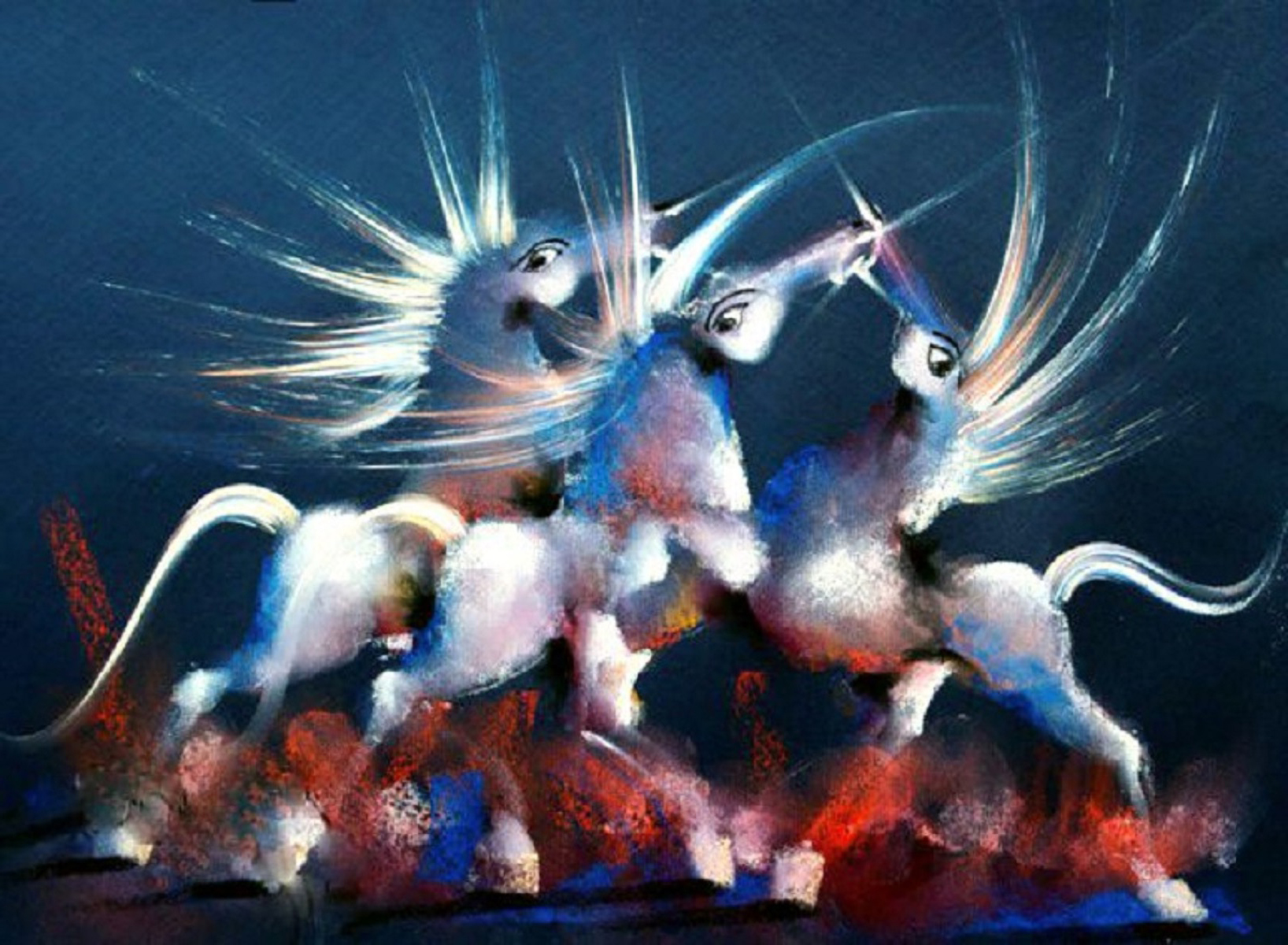 In his artwork, themes of his childhood and the current state of our natural environment are blended. Berkowitz is interested in modern abstraction and the urban community. These are combined in his signature mixed-media collages.
Moreover, David Berkowitz Chicago uses eternal objects of his daily life, such as fog banks rolling up the legendary river, shacks on the floodplain, and the barns where he felt safe as a child. The henhouses where he talked with chickens as a young 5-year boy are also included in his unique paintings.
David Berkowitz Chicago is a painter of joys of life, optimism, and force. His paintings, whether they are pastels or oils, leave no one indifferent and are full of color and energy.
In Berkowitz's early artworks, scenes from everyday country life in Illinois can be easily recognized.
Motifs In Berkowitz's Paintings
Berkowitz tries to show the life and customs of the people living in the countryside. This comes naturally to Berkowitz as the artist grew up on such vast landscapes. This is displayed in his paintings by underlining the characteristics of this region, such as tulips, corn, stacks of hay, yellow pumpkins.
A symbolic theme of wild horses is always present in Berkowitz's paintings. This theme is strongly related to the countryside of his childhood.
Berkowitz often fits horses in his landscapes. He ties carriages to them like Noah's Ark. Berkowitz elevates them to the sky, hovering over lonely farmhouses or the characteristic green of the gardens.
Those playful horses, mesmerize with their beauty and genuineness. His horses are not just a motif, they are a symbol of purity. Berkowitz's horses are highly stylistic. They are almost a trademark of his work.
In his symbolic and poetic work, David Berkowitz Chicago invents a whole new style in naive painting.
David Berkowitz Chicago's artwork explores the relationship between popular culture and high art. Chicago is always seeking out the uncomfortable and confronting topics in society. This painter's unique style of naive art distinguishes him from others with irony and absurdity.
Recently, Berkowitz created vivid large-scale paintings that picture horses from the place where he has lived. As an artist, Berkowitz is most interested in sharing sensitive, humanistic, and honest stories of his childhood. This artist continues to leave a deep trace in the American naïve art scene.
Chicago Art Exhibition
David Berkowitz Chicago has participated in more than three group exhibitions across Europe, North America, and Canada, over the course of the past decades. He has had about forty independent exhibitions. His latest exhibition, named "Horses" was held in the Chicago Art Gallery.
Through over 50 paintings displaying landscapes and still lifes, this long-overdue exhibition traces the evolution of Berkowitz's remarkable career. Among the highlights of the exhibition will be a sequence of landscapes, which demonstrate Berkowitz's lifelong fascination with horses and rural life.
Overlooked for too long, Berkowitz's unique vision and painterly invention will be a revelation to the Chicago audience.